Women labor in love everyday. It is a beautiful gift from above and the stories shared are absolutely amazing. In this series, mothers all over the world share their stories about their labor experiences and advice for expecting moms.

This is a guest post by Natalie from Nursing Shoe Heaven.
Some of the links included in this post are affiliate links, meaning, at no additional cost to you, I will earn a commission if you click through or make a purchase. 
Early in the Morning
It was the morning of my sister's birthday, 
July 18
, and I woke up around 
5 a.m.
, frustrated with the on-and-off-again contractions that had kept me awake during the night. I was afraid to start timing them. Since every time I did that they would taper off after a good hour or two and leave me discouraged that Evelyn was NEVER going to come. But at 
8 a.m.
, I started tracking, saying I'd call the doctor at 
9 a.m.
 since I had an ultrasound scheduled for that afternoon anyway. The contractions were 5-7 minutes apart. And when I called, the nurse said  since I was a week past my due date I needed to go to the hospital.  Even though the same kind of contractions had sent me there two weeks earlier and proved unproductive.
At The Hospital
I was less than hopeful as we packed the car and I consoled myself figuring at least we'd be in Weymouth where our ultrasound was scheduled. I had no other plans that day than to wait for baby. We arrived around 
10:30 a.m.
 and the examination process began. After monitoring us both, they found that my blood pressure was concernedly high. However, everything else seemed great. Unfortunately, I was only 1 measly centimeter dilated. They took blood work, had us eat lunch and walk the halls, and then rescheduled my ultrasound for in the hospital. The ultrasound looked good, but the doctor said I shouldn't go home overdue. Especially, if both mom and baby weren't "perfect."
Not Going Home
At around 
2:30 p.m
,  we were sent back to the birthing unit and told that — HUZZAH! — they were keeping me. Miraculously, as soon as we got admitted, my blood pressure started calming down, haha! Casey and I were sent again to walk the halls. My contractions were getting more intense, and I was really hopeful we were making progress. Here's me drinking water from my "Pregnancy Pineapple Cup" and walking with Casey.
We labored until 
8:30 p.m.
, with a mix of hall-walking, lunges and sitting on the birthing ball. I ate tons of ice chips because #1 I was craving them and #2 the hospital had the best ice chips ever. When the midwife came back to check my cervix, I was tired, the contractions were painful. I was eager to hear how much I'd progressed. The report? Nothing. I was a "loose 1 cm" at best, and my mom had just hopped in the car to come to the hospital.
As you can imagine, I was extremely discouraged.
That's when the midwife gave us some options:
Walk more and try to get labor going on it's own
Take Nubane which might "melt the cervix" and if not, would at least let me sleep a little,
Or try Pitocin.
She recommended the Nubane, saying that even if I needed Pitocin later to really get things going, I'd have gotten some rest.
The Nubane Works
I didn't want to go to sleep because I was impatient and I felt bad that my mom arrived only to see me drifting off. But, I took the midwife's recommendation. The Nubane made me groggy enough to let me lay down through the contractions. However, as the night kept going, I started to feel them really ramping up. Soon enough I woke up from the Nubane with terrible back labor. If any part of the process was "excruciating," it was that excruciating back labor contractions in my lower back. Soon after those began, I told the nurse I felt tons of pressure — pushing was imminent. I was exaggerating, of course, but the midwife did find at 
1:20 a.m.
 that I was 7 cm dilated!
The Final Three Hours: A Blur
Evelyn Erica Fernanda McKee
was born at 
4 a.m.
 — on the dot — after 2.5 hours of a blur of back labor and pushing. I remember hearing the nurse say that it was 
4 a.m.
 and thinking, "What!? Last I remember it was 
1:20
!
Casey caught her and the nurses quickly transferred her to my chest where I was in awe of her tiny body. Talk about surreal! I tried to be strong for her for a little longer so she could stay skin to skin with me. Nonetheless, the after-birth stitching took over an hour and I needed nitrous oxide to get through that slightly-traumatizing aftermath. Since the baby couldn't be near the gas, Casey took her to keep her warm. It wasn't until the sewing was all done that I at last broke down and cried. Every ounce of me had been drained, but here she was: Our little miracle. She was born at 
4 a.m.
, weighing 7 lbs. oz. and was 20 inches long. Thank the Lord, she was healthy in every way.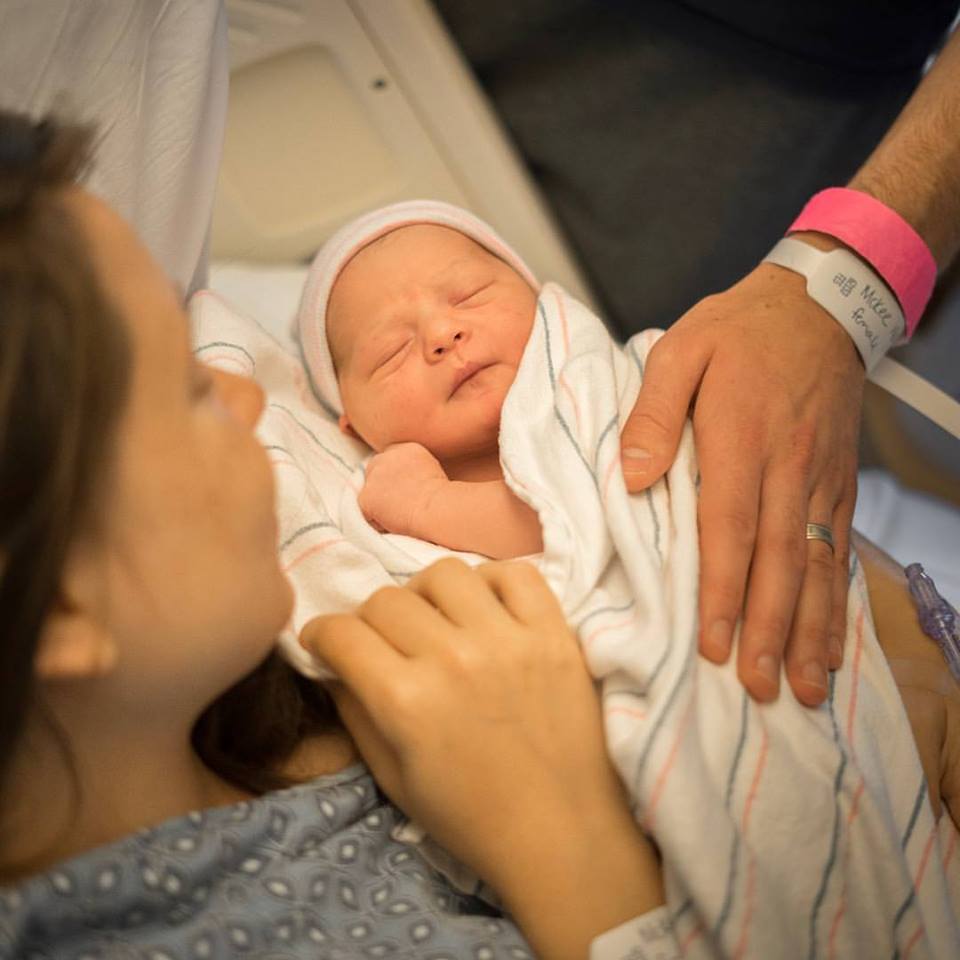 Did you receive an epidural or pain medications?

I didn't receive an epidural, but I had Nubane during my labor to help progress it along, as well as local anesthetic and nitrous oxide to help me get through the stitching process.
How did you deal with your contractions? Silence. I had terrible back labor, and I found the best thing to do was kneel on my hands and knees, breathe and keep my eyes closed. I didn't think about anything except getting through the contraction, and I didn't speak. My husband kept bringing me cool towels for my head and back, and he stood by my side.

What would you have done differently or will do differently next time?

I'm going to seriously consider an epidural and work really hard on not tearing. I didn't prepare much before birth because I thought going without an epidural would mean I didn't tear: Jokes on me! The tearing was the worst part of the entire birth (much worse than back labor), and I wish I had done exercises to avoid it.
Funniest memory: Oh my I don't remember anything "funny" honestly! Until I got the Nubane, the contractions were quite manageable and my husband and I had a good time pacing the hospital and chatting when I wasn't in pain, but from then-on it was all business.
Tip(s) for new moms: Get help. Line up help. Call all your friends and family and say, "I need help." I wish I had lined up more help before the baby came, but I just assumed help might come if I needed it and otherwise I would just make it work. But people don't know you need them unless you ask, and I was too afraid to ask. Also, be on the look-out for postpartum depression symptoms, and make a plan to get professional help should you get a diagnosis.
Natalie writes at Nursing Shoe Heaven: https://nursingshoeheaven.com/. Follow her on Twitter at https://twitter.com/NatalieCMcKee
Enjoy this Labor in Love story? Check back next Monday where we meet Judy from Funmammasa and learn more about her experience laboring in love. 
Our readers also enjoyed: